maybe if you saw what i see, you'd stop.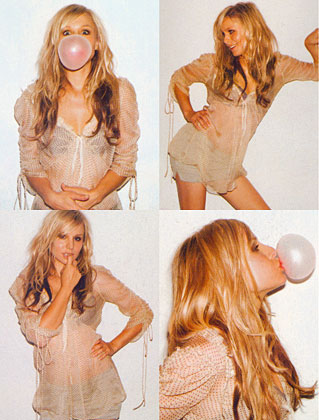 1. Name four bad habits you have.
procrastinating
eating when i'm not hungry
speaking before thinking
thinking too much

2. Name four things that you wish you had.
wilfred skirt
cc
a cupcake
salt and pepper hoodie

3. Name four scents you love.
baked goods
nina by nina ricci
cologne on cute boys
new car smell

4. Name six people that know you the best.
an
jenna
ayanna
carolina
filipe
julien

5. Name four things you'd never wear.
belly tops
belly piercings that are like chains
tna fitteds NEVER EVER
stitch bags or whatever they're called

6. Name four things you are thinking about right now .
this quiz
too
many
things

7. Name the last four things you have bought.
minnetonka moccasins
coach mini skinny
poutine
pizza

8. Name four bands/singers most people don't know you like.
akon .. lol
britney spears
abba
macy gray

9. Name four drinks you regularly drink.
ICED TEA
milk
chocolate milk
coke.

10. What was your first grade teacher's name?
ms. kellar
11. What is the last song you heard?
help i'm alive
12. Who was the last person you hugged?
ace..ew
13. What was the last thing you laughed at?
noah & isi.

14. When was the last time you said "I love you" and meant it?
yesterday?
15. When was the last time you cried?
a month ago?


16. What's in your CD player?
i don't own a cd player. :(

17. What color socks are you wearing?
black fluffy socks with santa claus; courtesy of nino.
18. What's under your bed?
scrabble for kids
nikon d60 box
a giant hershey kiss from valentines day 2007

19. What time did you wake up today?
10 a.m.
20. What is your current taste?
sticko
21. What are you currently wearing?
pyjamas
22. What is your current longing?
cc.
23. What is your current worry?
i will do a terrible job performing my ballad.
24. What is your current hate?
a lot.
25. What is your favorite physical feature of the opposite sex?
eyes
26. What is the last CD you bought?
i honestly stopped buying cds after grade 6. so probably good charlotte!
27. Where is your favorite place to be?
downtown. beach
28. What time do you wake up in the morning?
it depends what day. but usually 6 a.m.
29. If you could play an instrument, what would you pick?
violin.
30. What is your favorite color?
all
31. Do you believe in an afterlife?
oui oui
32. How tall are you?
short.
33. What is your favorite season?
summer
34. Who is one person from your past that you wish you could go back and talk to?
there is more than one person
35. What is your favorite day of the week?
FRRRIDAY!! and SATURDAY!
36. Where would you like to go?
europe.
37. What is your career going to be like?
i hope it'll be wonderful.
38. How many kids do you want?
2, maybe 3
40. Identify some of the things surrounding your computer
chocolate chips, black cd, lettering book, tissue box, hanger. RANDOM.